Nothing Nice
by
Guitar Slim Jr.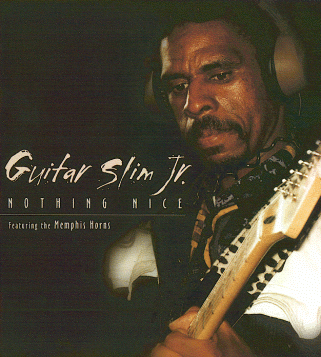 Warehouse Creek Recording Corporation presents Nothing Nice, their first release from the Grammy nominated artist, Guitar Slim Jr aka Rodney Armstrong. Recorded in New Orleans LA, Memphis TN, and Virginia Beach, VA, this album features the talents of the legendary Memphis Horns and introduces Art Wheeler. Nothing Nice is Guitar Slim Jr's fresh, new contemporary blues sound, his first release since 1988. Nothing Nice pairs a new record label with new producers and original new songs, coupled with a few Blues Standards. These include music from his father, Blues Legend Eddie Jones, also known as Guitar Slim.
---
Message from the Artist
Producer's notes and sound bytes.
Reviews:
Credits
---
Page accesses to date:
warehouse@esva.net