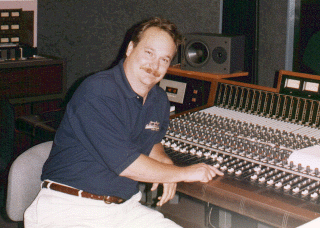 Nothing Nice
Billy's Notes
by Billy Sturgis
One of the things I love about New Orleans is that someone can step out of a barroom doorway and change your life. That's what happened the night I met Rodney Armstrong, aka Guitar Slim Jr. I was in New Orleans on tour with a musical group I was promoting, and being unfamiliar with the "Crescent City", Slim offered to be my impromptu tour guide. Although hesitant at times, I followed Slim through the maze of back alleys and was introduced to the real soul of New Orleans -- the men who make it's music. Guitar Slim Jr. is one of those special men.
Son of Eddie Jones, a blues legend, Guitar Slim Jr. grew up on the streets of New Orleans. Slim lives the life that the blues is all about -- that's why his music touches your soul.
When I returned from my trip to New Orleans Slim and I kept in touch. Later, he visited me on the Eastern Shore of Virginia, where he came to enjoy a slower, healthier lifestyle. Slim flourished, and so did his music. His local performances were great successes, but there was one special night: Slim joined Joe Pope and the Tams singing Try A Little Tenderness at a party. It was then I realized we had to make a record!
Pulling the recording venture together was a challenge. So I called on George Wayne, a producer and songwriter, and his partner Art Wheeler whose mastery of blues piano style was custom made for this project. That first week-long session with Slim in New Orleans in September of 1993 was a great start and reinforced our faith in the project. From New Orleans we went to Memphis and added one of the true sounds of STAX Records, the legendary Memphis Horns. Wayne Jackson and Andrew Love are two of the finest and most talented gentlemen I know, and it was an honor to have them put their special touch on the record. A late night session in Sun Studio finished our time in Memphis.
Back in Virginia, George and Art put the final touches on a well-chosen variety of songs that reflect Slim's unique style and his feel for life. Guitar Slim Jr's Nothing Nice is a mixture of Bourbon Street, Beale Street, and 926 McLemore with sounds reminiscent of Eddie Jones, Stevie Ray Vaughn and others from Motown to Elvis.
I'd like to thank Rodney Armstrong for making this project such a rewarding and enjoyable experience. My eternal thanks to George and Art -- you two are the best! To the ladies of Warehouse Creek, especially the one who arrived December 6, 1994 -- your understanding and love kept this project afloat!
This recording is dedicated to Tom Giddens of The Wandering Four Gospel Quartet, whose lifelong inspiration and encouragement brought this recording to life. "Pops", as Slim calls you, thanks for being there.
Billy Sturgis
President
Warehouse Creek Recording Corporation
---

warehouse@esva.net