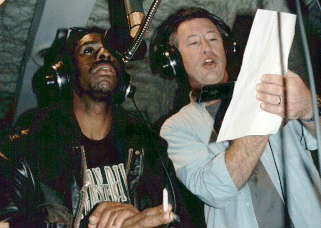 Nothing Nice
Producer's Notes
by George Wayne
My involvement in the Nothing Nice project began when Billy Sturgis sent me a demo of Slim performing one of my songs, Just Out Sunday Driving. Even though we didn't use that song, as I listened to other demos and recordings of Slim, my interest in the project grew. I had known of Slim's father, but this was my first exposure to Slim. When Billy offered me the chance to produce the CD for Slim, I grabbed it. I immediately called my collaborator, Arthur Wheeler, and asked him to work with us.
After arriving in New Orleans, I met Slim for the first time that evening. He immediately wanted to show us "his city". We were in search of a bass player and drummer for the session that started the next day.
We began at the foot of Bourbon Street and hit every club on the way up. Everybody knew Slim. He would jump on stage, do a number with the band, shake hands, and then off we'd go again.
After midnight we caught a taxi to a club in the Treme section. I soon discovered we were on a walking tour from club to club, because each next club was "only a few blocks away"!
I've never been happier than when we caught the cab to come back to the French Quarter; I had survived the initiation.
Despite my reconnaissance mission, the next day we had no bass player or drummer. Fortunately, our engineer Marc Hewitt called Doug Potter (bass) and Jack Burnette (drums), and they were there at the studio within the hour. And they were "there" in the pocket and laying that solid foundation on which everything is built.
As we began to look for a direction in which to take the album, we wanted to feature the rare soulfulness of Slim's vocal style. We knew we wanted to make more than a straight blues album.
About half the songs (including his dad's blues classics) were Slim's selections. Recorded live in the studio with one or two takes and a minimum of overdubs. This is what Slim would sound like performing at a club in New Orleans.
On one of these songs, I Feel So Bad, we felt sure it was a Ray Charles number. We later found out it was written by Chuck Willis. Coincidentally, it was on Slim's father's original sessions that Ray Charles got his first opportunity at arranging. One of those songs, The Things I Used To Do, we re-recorded for this album.
We tried to mix up the styles on the rest of the collection to keep the album fresh. On the other songs, Art would craft a rhythm track with the bass player and drummer. Slim would then sing and play on top of those tracks. Many of these songs were new to Slim. My favorite guitar pieces are on If you Think That Jive Will Do and Oo Wee Baby, I Love You. The grittiness of the former and the sweetness of the latter show the sensitivity of his guitar playing.
We took the liberty on one of our songs, If You Think That Jive Will Do, to push the envelope toward a "pop" sound. Art's infectious keyboard hook accomplished this while still paying homage to the blues, as does Andrew Love's Memphis-soul sax at the end. Slim's shotgun guitar intro makes sure the song starts with a bang.
Once while we were taking a break, I asked the guitar man how he sang with such power and conviction. Slim pointed to the bottom of my foot and said, "It starts here."
While we were recording the vocals on If You Think that Jive Will Do (a trying experience Art refers to as "standing amid living blues mythology"), we had great difficulty getting Mr. Armstrong to learn the words, much to his amusement. To compound the situation, Art wanted to change the second half of the chorus lyrics to "your right,'cause I can't make it without you" from "your right, see, cause I'm crazy about you."
Slim is at the microphone, flanked by Arthur and me, seeming impervious to the dispute. When the moment came, the blues man grinned at me and sang the words that you hear today. Everytime I play that tune, I can hear his laugh in there.
The take-out New Orleans style gumbo brought in nightly from Mother's, was out of this world, but the greatest moment of gastronimical delight came when Wayne Jackson brought his homemade cherry pie to the Memphis session.
The emotional high point of the project also came in Memphis. A chance meeting with Gary Hardy, the owner of Sun Studio, led us to book a session later that night.
Just being in Sun Studio seems unreal. It appears unchanged from those early Elvis photographs there. Out front by the road, there's even one of those metal historical markers, put up by the State to educate the uninitiated.
Back in Virginia, we began our touching up and polishing process. The first thing we did was add tambourine to most of the tracks. Art and I both feel that tambourine is the glue of R&B Music. It adds a sense of life and excitement. Tambourine is like garlic in the hands of a chef - the slightest amount changes the recipe in deep yet subtle ways.
Part of the process of helping to build "the sound" is to fill up any "holes" you may find. We found one such hole during the "I want to tell you bout the changes I put you through" part of If You Think That Jive Will Do. I decided to play a small rhythm guitar part there to help move the passage along. Art also played the slide guitar on The River's Invitation to add drama to the movement of that passage. Those are the only guitar parts on the album not played by the Slim man.
On Our Only Child, we stripped down the original recording to Slim's guitar and vocals and the drums. We rebuilt the song to get what we hoped would be an authentic New Orleans "after hours" feel. Art laid down piano tracks with styles ranging from Walter Davis and Jimmy Yancey to Jelly Roll Morton, a true testament to Mr. Wheeler's piano mastery and versatility. The new arrangement necessitated a new bass line, added with a synth.
It was in Virginia that we crafted most of the piano leads that are featured in many of the songs. But there are many less obvious piano moments, like the huge lefthand chords at the end of Steal Away or the 212 degree piano gumbo on I Feel So Bad.
When Slim sang Steal Away, a first take keeper, we were jumping up and down in the control room with tears in our eyes. It is an incredible vocal performance. So is Try a Little Tenderness. Set against classic jazz piano and introduced with muted trumpet, Rodney soars. In the second verse, listen for the gorgeous glissando as he sings "She-e-e ha-a- as her grief and cares."
When it came time to mix I Want You, we had about five vocal tracks from three different recordings at two different studios. We literally combed through each line assembling what is heard on the final product. That sweet harmony part, "I want you, I want you," was sung once only by Slim. We sampled it and sprinkled it throughout the song.
The guitar on If You Think That Jive Will Do was also assembled from four or five tracks, taking the best track in each session. The solo is two tracks combined. The funky section that cuts in at the end of the sax solo was almost lost. It was on a track by itself, yet fit so perfectly when we rediscovered it. That little Hendrix thing at the end just takes the song out perfectly in the fade.
Besides needing a lot of luck, that kind of mixing is tedious and demanding. Volume and EQ levels must be massaged and "cut-ins" are measured in nanoseconds. We were fortunate to have a top-notch engineer in Robert Ulsh, helping us during the mixing.
Now we come to the part of the essay where I'm suppose to wax poetic, quote great people, and offer up some closing wisdom. Since I'm drawing a blank, I'll just go with the standard fare and perhaps somehow we'll all get an extra 10 minutes of sleep.
Nothing Nice is an experience I will never forget, and I am proud to have been a part of it. I'd like to thank everyone that was involved.
George Wayne
%Writing River Publishing
P O Box 5063
Glen Allen, VA 23058

---

warehouse@esva.net